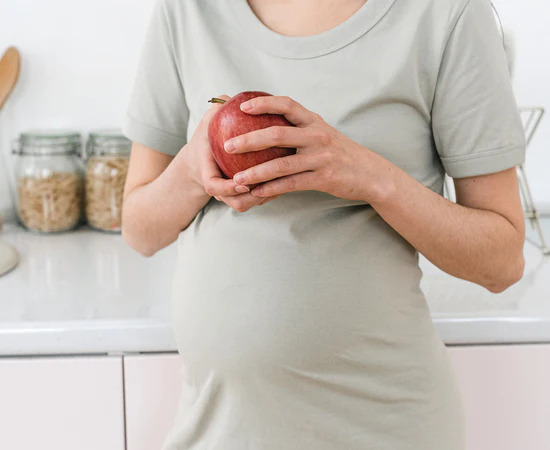 Prenatal care is extremely important for you and your baby. If you're a first time mom, you might feel nervous, not knowing what to expect. We're here to empower you with the information you need to feel prepared to know what to expect and ask the right questions.
Generally speaking, at each visit, your doctor will measure your baby's growth, check their heart rate, and ensure that you are getting enough nutrients and weight gain to support your growing baby. Each visit may come with mixed emotions, excitement for a new addition to your family, or anxiety about what may happen as you prepare for your due date and labor and delivery. Preparing for each appointment and knowing what to expect may help ease your anxiety and diminish any surprises.
What usually happens during my first prenatal appointment?
Once you see a positive pregnancy test or a missed period, call your care provider to schedule your first prenatal appointment. It may surprise you, but you may not see your doctor until at least eight weeks into your pregnancy. This is because some doctors prefer to wait until they can hear a heartbeat on the monitors. However, some doctors choose to see you before to check for implantation and test your HCG levels for pregnancy. Other things you and your doctor may do during this visit include:
Medical History
During your first visit, your care provider will go over your medical history and ask questions regarding medications, family medical history, lifestyle, alcohol or tobacco use, and recent travel outside of the United States.
Physical Exam
Your doctor may order a blood test for HCG levels and perform another pregnancy test. In addition, your doctor will measure your height and weight to determine your BMI. During pregnancy, weight gain is expected and healthy, but your doctor may discern a healthy weight gain based on your BMI.
Your doctor may do a pelvic and breast exam to check for overall gynecological health. If you have not recently received a pap smear, your doctor may perform one. Pap smears during pregnancy are generally painless and help the doctor determine the health of your cervix and if there are any underlying medical conditions they need to be aware of during pregnancy.
Order Lab Tests
You may receive your first of many blood tests during pregnancy at this visit. Blood tests may screen for:
Maternal Blood type: It is essential to test your blood type to check your Rh status. If you are Rh negative and your baby's father is Rh positive, you may need extra care during pregnancy.
Test for Anemia: Hemoglobin is an iron-rich protein inside your red blood cells. Low Hemoglobin may be a sign of anemia.
Overall wellness check: Your doctor may also check for certain infections, such as STIs. They may also screen for rubella and chickenpox.
Questions to ask during your first prenatal visit:
What foods should I avoid?
What types of exercises are safe for the baby and me?
Does my family medical history pose any pregnancy or health risks to my baby?
What are the restrictions regarding sex during pregnancy?
Can I travel during my entire pregnancy?
What symptoms are not expected during pregnancy?
When should I call my doctor if I experience worrisome symptoms?
Do your stances on scheduled c-sections, epidurals, delayed cord clamping, and breastfeeding align with mine?
What is the best way to contact you?
What to wear & bring for your first prenatal appointment
What to wear
Fortunately, there are no restrictions on what you can and can't wear to your first prenatal appointment. However, your first prenatal appointment may be the longest you have during your pregnancy. With this in mind, you should dress for comfort. In addition, your doctor may perform an abdominal ultrasound, so you may choose pants and a top to avoid getting fully undressed.
What to bring
Your first prenatal appointment may be overwhelming with questions, exams, and blood work. Therefore, it may be helpful to bring a list of important information to your first appointment. It may be essential to write down the following:
Your menstrual cycle history
Any past pregnancies
Your gynecological history
List of current and past medications
Travel history
Immunization history
Typical schedule for prenatal appointments
Week 4 - 28 - once a month
Week 28 - 36 - every other week
Week 36 until birth - every week
How can I relieve common symptoms associated with pregnancy discomforts?
Back pain
Backaches during pregnancy are relatively common and affect more than 30 percent of women. Back pain occurs due to the relaxing of ligaments and posture changes due to carrying extra belly weight.
How to relieve back pain naturally:
Going in a pool reduces the pressure on your ligaments
Wear flat shoes with good heel support
Avoid heavy lifting
Wear a maternity belly support band
Constipation
Constipation is one of the most unpleasant symptoms of pregnancy. Constipation is often caused by pregnancy hormones that may slow your GI tract movement. In addition, the pressure of the growing belly may affect your ability to go.
How to relieve constipation naturally:
Drink 8 to 12 glasses of water a day
Increase your fiber intake
Go for a walk
Leg Cramps
During the second and third trimesters, it is not uncommon to experience pesky leg cramps in the middle of the night. This is because the build-up of acids causes contractions in the leg muscles.
How to relieve leg cramps naturally:
Go for a brisk walk
Prenatal yoga
Prenatal massages
Warm compress to legs
Wear a maternity support band
Closing thoughts
Pregnancy is an exciting time for most women. It is a significant life event that you may enjoy for the rest of your lifetime. However, preparing for prenatal appointments may cause some anxiety because we do not always know what to expect or how the baby is growing. Nevertheless, with a good support team and supportive clothing, you may enjoy the nine months of pregnancy and look forward to going to each prenatal appointment to hear your baby's heartbeat. It's a nerve wracking time, but try to cherish these moments during pregnancy; they are memories that last a lifetime.